Readercon 32 Guests of Honor
The following guest attended Readercon 32.
Jeff VanderMeer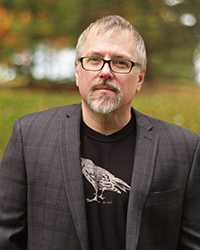 Called "the weird Thoreau" by The New Yorker, Jeff VanderMeer is the author of the NYT-bestselling Southern Reach trilogy, which has been translated into over 35 languages. The first novel, Annihilation, won the Nebula Award and Shirley Jackson Award, and was made into a movie by Paramount. Recent works include Hummingbird Salamander (a Shirley Jackson Award finalist) and A Peculiar Peril, in addition to Theo Ellsworth's graphic novel adaptation of his short story Secret Life. Dead Astronauts, Borne (a finalist for the Arthur C. Clarke Award), and The Strange Bird, set in the Borne universe, are being developed for TV by AMC and continue to explore themes related to the environment, animals, and our future.  Over a 35-year career, VanderMeer has been a four-time World Fantasy Award winner and 20-time nominee. His nonfiction, usually on ecological issues, has appeared in the Los Angeles Times, the New York Times, Current Affairs, and The Nation.
Justina Ireland
Justina Ireland is the New York Times bestselling author of numerous books, including Dread Nation, Deathless Divide, and the Scott O'Dell Award winning middle-grade, Ophie's Ghosts. She is also the author of numerous Star Wars books and one of the story architects of Star Wars: The High Republic. Her most recent book, Rust in the Root, is now available. You can find her on Twitter as @justinaireland or on Instagram as @justina.ireland.
Special Guest: Ann VanderMeer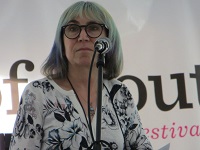 Ann VanderMeer is an award-winning editor & anthologist. She currently serves as an acquiring editor for Tor.com and Weird Fiction Review and is the Editor-in-Residence for Shared Worlds. She was the editor-in-chief for Weird Tales for five years, during which time she was nominated three times for the Hugo Award, winning one. Along with multiple nominations for the Shirley Jackson Award, she also has won a World Fantasy Award, the Locus Award and a British Fantasy Award for co-editing The Weird: A Compendium of Strange and Dark Stories. Other projects have included Best American Fantasy, three Steampunk anthologies, and a humor book, The Kosher Guide to Imaginary Animals. Her latest anthologies include The Time Traveler's Almanac, Sisters of the Revolution, an anthology of feminist speculative fiction and The Bestiary, an anthology of original fiction and art, AVATARS, INC (an online XPRIZE anthology), The Big Book of Science Fiction and The Big Book of Classic Fantasy and The Big Book of Modern Fantasy.
Memorial Guest: L. A. Banks
L. A. Banks (1959-2011) was the author of the Vampire Huntress Legend series and the Crimson Moon Novels, including Left for Undead and Never Cry Werewolf. She had a bachelor's degree from the University of Pennsylvania's Wharton School of Business and a master's in fine arts from Temple University. Banks considered herself a shape-shifter, writing romance, women's fiction, crime and suspense, and of course, dark vampire huntress lore. She lived with her daughter in Philadelphia until her death in 2011.