Readercon 31 Guests of Honor
The following guests attened Readercon 31.
Ursula Vernon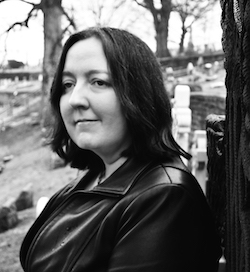 Ursula Vernon is a prolific author and artist whose work spans multiple genres and mediums. Venon studied both anthropology and art at Macalester College in Saint Paul, Minnesota, and first became known for her digital and mixed-media anthropomorphic animal art, including the webcomic Digger, which launched in 2003 and soon won multiple Web Cartoonists' Choice Awards, the Mythopoeic Fantasy Award, and Vernon's first Hugo Award. From there, she began writing and illustrating children's books, most notably the Dragonbreath series (a Sequoyah Award winner) and the Hamster Princess series (which made the Amelia Bloomer List for feminist children's literature). Her novel Castle Hangnail won a second Mythopoeic Fantasy Award. At the same time, her short fiction, some under the name T. Kingfisher, has also received critical acclaim: "Jackalope Wives" won the Nebula Award, the WSFA Small Press Award, and the Coyotl Award; "The Tomato Thief" won another Hugo; and "Sun, Moon, Dust" was a Hugo finalist. Under the Kingfisher name, Vernon has written four books of fairytale retellings, eight fantasy novels (including the Clocktaur War duology), and two horror novels. The first of those horror novels, The Twisted Ones, was nominated for the Locus Horror Award and the August Derleth Award for Best Horror Novel and won the RUSA Award for Best Horror; the second and most recent, The Hollow Places, was released by Simon & Schuster in 2020. Her work is fun, memorable, and often incredibly poignant, consistently full of wit, humor, and great heart. Vernon lives in North Carolina, where her free time is dedicated to producing podcasts with her husband, wrangling an increasingly large menagerie of animals, ranting about invasive species on Twitter, extensive gardening, and maintaining an unhealthy obsession with mulch. We are honored to welcome her to Readercon and celebrate her work.
Jeffrey Ford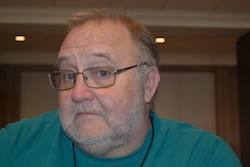 Jeffrey Ford is an author and educator who bends and blends the boundaries of fantasy, science fiction, and mystery to create dark fantasies and surrealist tales. His first published genre piece was "The Casket" in MSS Magazine in 1981. He has since published 10 novels and over 100 short stories, many compiled in his six collections, including The Best of Jeffrey Ford (PS Publishing, 2020) and, most recently, Big Dark Hole (Small Beer Press, 2021). His work has won or been shortlisted multiple times for the World Fantasy Award, the Hugo Award, the Nebula Award, the Theodore Sturgeon Award, the International Horror Guild Award, the Fountain Award, the Shirley Jackson Award, the Edgar Allan Poe Award, the Bram Stoker Award, the Locus Award, the Seiun Award, the Grand Prix de l'Imaginaire, the Nowa Fantastyka Award, and the Hayakawa Award. A former professor of writing and early American literature, Ford has been a guest lecturer at the Clarion Science Fiction and Fantasy Writers' Workshop, the Antioch University Summer Writing Workshop, the University of Southern Maine's Stonecoast MFA Program in Creative Writing, and more. His writing is characterized by humor, literary allusion, and a fascination with tales told within tales. It has been described as "whimsical," "narratively ambitious," "filled with magic, curses and dangerous technology," and "dark and subtle," all at once. We are thrilled to celebrate the work of this longtime member of the Readercon community.
Vonda N. McIntyre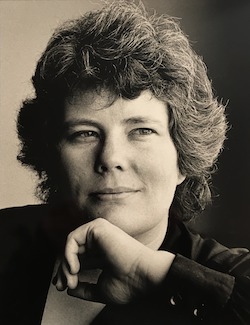 Vonda N. McIntyre (1948–2019) was an author of science fiction and fantasy and a longtime champion of feminist SF/F. She was born in Louisville, Kentucky. Her family eventually settled in Seattle, Washington, where she attended the University of Washington and earned a BS with honors in biology in 1970. That same year, McIntyre attended the Clarion Science Fiction and Fantasy Writers' Workshop, and immediately thereafter founded its West Coast counterpart, the Clarion West Writers Workshop. After publishing her first genre piece, "Breaking Point," she went on to win a Nebula Award for Best Novelette in 1973 for "Of Mist, and Grass, and Sand." That novella was reprinted in numerous "best of" collections and would eventually become part of her best-known novel, Dreamsnake, for which she won not only another Nebula Award but also a Hugo Award and a Locus Award. In the 1980s, she began writing novels for the Star Trek franchise, most notably the novelizations of the films Star Trek II: The Wrath of Khan, Star Trek III: The Search for Spock, and Star Trek IV: The Voyage Home. (She also originated the first name of the Star Trek character Hikaru Sulu.) In 1997, she published The Moon and the Sun, which won her a third Nebula Award and was later adapted to film under the title The King's Daughter. In 2010, she won SFWA's Service Award and her mathematically fascinating beaded sea creatures were included in the Smithsonian's exhibit of the IFF's Hyperbolic Crochet Coral Reef. A strong focus on female protagonists and feminist themes is evident throughout her body of work. She continued giving to her community even after her death, bequeathing her literary assets and substantial funds to Clarion West. Please join us in celebrating this inspiring author, artist, and fan.